Daniel Ricciardo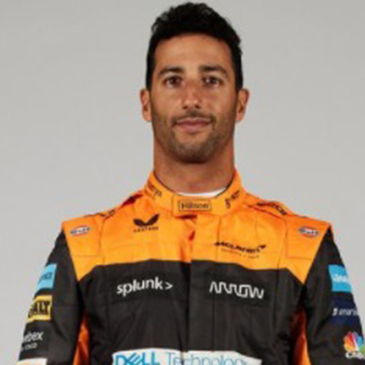 Drivers Championship
| POS | Current Season | Points |
| --- | --- | --- |
| 4 | Season 2020 | 80 |
Daniel Ricciardo Profile
Daniel Ricciardo is an Australian racing driver who was born in Perth, Western Australia on 1 July 1989.
Ricciardo burst onto the F1 scene back in 2011 as a member of the Red Bull young driver programme, the team paid struggling outfit HRT to take him on and give him some F1 experience.
The Aussie could manage no higher than P18 that season in a dreadful car, but fortunately he would earn a seat at Red Bull's junior team Toro Rosso for the 2012 campaign.
After two years with Toro Rosso, Ricciardo would be promoted to the main Red Bull team where he beat team-mate Sebastian Vettel at his first and only attempt, with the four-time World Champion then leaving to join Ferrari.
Ricciardo would spend five years with Red Bull, claiming seven race wins in that time and a further 29 podiums.
Sadly his career would pretty much come full circle with the team though - young Max Verstappen's influence within the team was growing and Ricciardo made the shock switch to Renault for 2019.
Ricciardo is commonly known around F1 by his nickname of 'The Honey Badger' and is loved for his jovial nature.
Outside of the sport he is a big fan of Australian rules football team West Coast Eagles and was the club's number-one ticket holder in 2015 and 2016.
Daniel Ricciardo Career
On 30 June 2011, Ricciardo was contracted to HRT by Red Bull. He made his debut 2011 British Grand Prix, finishing P19.
Thankfully he would land a more competitive drive for 2012, earning a call-up to the Toro Rosso team where he raced alongside Jean-Eric Vergne.
In his first race for the team, also his home race - the 2012 Australian Grand Prix - Ricciardo was able to pass Vergne on the last lap to take P9, earning his first two points in F1.
Ricciardo's 10 points weren't enough to beat Vergne in his rookie season with the Frenchman scoring 16, but one year later he put that right with P7s in China and Italy helping Ricciardo to a points tally of 20 and P14 in the Championship, one place and seven points ahead of Vergne.
His performances were enough to earn a spot at Red Bull for 2014 as Ricciardo stepped up to replace his retiring compatriot Mark Webber.
It was a new era in F1 as 2014 arrived, a turbo-hybrid era to be exact, and Red Bull's dominance alongside Sebastian Vettel was to come to an end.
And the four-time World Champion had further issues in the inter-team battle courtesy of Ricciardo.
In a season which Mercedes dominated, Ricciardo finished 'best-of-the-rest' in P3 after claiming victory at the Canadian, Hungarian and Belgian GPs.
Vettel meanwhile ended up down in P5, claiming 167 points to Ricciardo's 238.
With Vettel's departure came a new challenge for Ricciardo in the form of Daniil Kvyat.
It was a season of struggles for Red Bull and Ricciardo as he slumped to P8 with just 92 points. Ahead was Kvyat on 95 as he showed Ricciardo what it was like to be beaten by a rookie team-mate.
2016 brought better fortunes for Ricciardo as he returned to that P3 spot in the Championship, collecting his only win of the season in Malaysia.
But he was to be given a new team-mate early in the campaign, one Max Verstappen who had impressed at such a young age in his limited time with Toro Rosso. The Dutchman's victory at the Spanish GP in what was his debut race with Red Bull showed Ricciardo had a challenge on his hands.
Verstappen brought the fight again in 2017, but rookie mistakes were still very much creeping in, meaning Red Bull needed the calm head that was Ricciardo.
His only win would come in Baku, but that was part of a five-race streak of podium finishes as Ricciardo scored 200 points to finish the year P5, 32 clear of Verstappen.
It was 2018 though when things really went south for Ricciardo and his position at Red Bull.
The team had been using Renault power since 2007, but the reliability issues which had started to crop up in 2017 practically ravaged Ricciardo's 2018.
Add in the fact that he and Verstappen punted each other out of the race in Baku and you could see why Ricciardo was considering his options with his Red Bull deal coming to an end.
Despite taking impressive wins in China and Monaco Ricciardo ended up down in P6 in the Drivers' Championship, scoring 170 points, and he would announce that for 2019 he would be switching to Renault, ironically, signing a two-year contract.
Few could see the logic behind that move, Renault were still waiting for their first podium in F1 since returning as a manufacturer in 2016.
The season followed its expected script as Ricciardo was forced to battle in the midfield - Italy was as good as it got where he used Renault's brief spike in performance to finish P4, but 45.5 seconds behind race winner Charles Leclerc.
He was at least able to defeat team-mate Nico Hulkenberg. A shaky start made way for more polished performances and Ricciardo would claim P9 in the Drivers' Championship with 54 points, 17 clear of Hulkenberg.
He may have claimed that he didn't see it as a year of his career wasted, but at the same time he admitted frustration at his finishing position, saying: "I don't see myself as the ninth best driver on the grid".
Daniel Ricciardo Before F1
Daniel Ricciardo became a member of the Tiger Kart Club in Australia at the age of eight before turning his attention to Formula BMW racing in both Asia and the UK.
Ricciardo switched to Formula Renault racing in 2007 and his first piece of silverware came a year later when clinching the Formula Renault 2.0 WEC title, winning eight out of a possible 15 races. He would also finish runner-up in the Eurocup Formula Renault 2.0 series.
More title success came his way in 2009 as he reigned supreme in the British Formula 3 Championship with Carlin Motorsport.
Ricciardo then spent the best part of two seasons racing in the Formula Renault 3.5 series and, in 2011, was also confirmed as Toro Rosso's test and reserve driver for the season following some successful tests for Red Bull.
That then paved the way for Red Bull to place Ricciardo at the Spanish Formula 1 outfit Hispania Racing, replacing Narain Karthikeyan for all the remaining races of the 2011 season.
Daniel Ricciardo Net Worth
Daniel Ricciardo is comfortably in the upper echelons on the highest-earning Formula 1 driver list after making a shock switch from Red Bull to Renault ahead of the 2019 season.
Ricciardo's two-year contract is widely reported to bring in an annual salary of £25.3million a year, which makes him the third best-paid Formula 1 driver behind Lewis Hamilton and Sebastian Vettel, and raking in triple the amount he was earning at Red Bull.
According to Daniel Ricciardo's official website, his list of personal sponsors are: GoPro, Australian car website Carsales, trading platform eightcap, luxury headwear company Melin, Blue Coast brewing company and underwear manufacturer Stance.
Ricciardo owns a $13million mansion in Los Angeles after purchasing the property in 2018. it boasts five bedrooms, five bathrooms, a pool and a two-car garage.
Daniel Ricciardo Family
Daniel Riccardo has some Italian blood in his veins, which is probably why the links of a move to Ferrari will never fade away.
His father, Giuseppe "Joe" Ricciardo, was born in Ficarra but relocated to Australia as a child. His wife, and Daniel's mother, Grace, hails from Australia but her parents, too, are of Italian descent.
He has a sister called Michelle and is uncle to her two young kids.
Daniel was in a long-term relationship with childhood sweetheart Jemma Boskovich until the pair split in 2016. Ricciardo has since been rumoured to be dating model Jessica Gomes.
However, Ricciardo addressed those rumours and said that was not the case.
He told Herald Sun: "A few of my mates sent me a message saying, 'mate you're on the front page of the paper'.
"I was like: 'What for? What have I done this time? What have I done wrong?'
"And they were like, 'apparently you're dating a model'. And I was like, 'oh gosh'. So I don't know where that came from."
Daniel Ricciardo Photos