Lewis Hamilton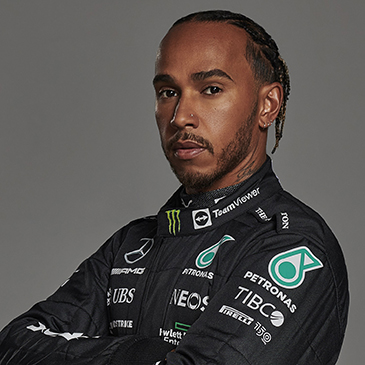 Drivers Championship
| POS | Current Season | Points |
| --- | --- | --- |
| 1 | Season 2020 | 307 |
Lewis Hamilton Profile
lLewis Hamilton is a British racing driver who was born in Stevenage, England on 7 January 1985.
He is considered one of the greatest Formula 1 drivers of all time, claiming six World Championships and dominating the turbo-hybrid era as part of the Mercedes team.
Hamilton began his F1 career at McLaren in 2007 where he partnered two-time World Champion Fernando Alonso.
After beating the Spaniard in his rookie season it was clear that Hamilton was something special. He would only prove that further one year later as he captured his first World Championship after a truly bonkers 2008 Brazilian GP.
From there McLaren largely struggled to give Hamilton a car which could bring him his second title, but how things would soon change.
In what was a shock move at the time, Hamilton signed for the Mercedes team from 2013. Far from the dominant force they are now, Hamilton took the seat vacated by seven-time World Champion Michael Schumacher, and alongside Nico Rosberg had the task of dragging the Silver Arrows up the standings.
And he would do just that as 2014 marked the start of the turbo-hybrid era and also Mercedes' F1 dominance with Hamilton now a six-time champ, while Mercedes have a record six consecutive Drivers' and Constructors' title doubles to their name.
Hamilton boasts a plethora of F1 records, such as most career points, most pole positions and most points in a single season.
Away from F1 Hamilton is known for his love of fashion, launching his own brand alongside Tommy Hilfiger.
He also likes his music, and has recently confirmed that he is training to be in his first action movie.
As a vegan Hamilton isn't shy when it comes to his environmental campaigning, while he also has a stake in London's vegan burger joint Neat Burger.
Lewis Hamilton Career
Lewis Hamilton was somewhat of an unknown when he was called up to race for McLaren in 2007, and the reigning GP2 champion certainly didn't have it easy with Fernando Alonso as his team-mate.
The Brit meant business, though, finishing on the podium in his debut race. He would go on to miss out on winning the title in his first season by just one point to Kimi Raikkonen.
Hamilton set various records for the time with his rookie campaign, such as most consecutive podium finishes from debut (nine) and most points in a debut season (109).
Hamilton's emergence proved to be the end for Alonso who quit McLaren after 2007 following just one season with the team, such was the tension between he and Hamilton.
Meanwhile Hamilton was handed a bumper new deal to stay with McLaren until 2012.
2008 proved to be Hamilton's year though as he claimed five wins and ten podium finishes to secure his first Drivers' Championship, although his driving style was called into question for being somewhat reckless - shades of Schumacher?
He would capture the title at a thrilling Brazilian GP - Felipe Massa would win the race and the title, too, everyone thought in front of his home fans, but as the rain began to fall Hamilton would pass Toyota's Timo Clock through the last corner to take P5 and the points he needed to snatch the Championship from Massa.
From 2009 to 2012 McLaren couldn't quite hit the same heights with their machinery, Hamilton would score multiple wins in all four of those seasons, but a culmination of less competitive machinery and a self-confessed loss of focus saw him fail to finish higher than fourth in the Drivers' standings.
Perhaps then a reset was needed? And it duly arrived with Hamilton announcing he would end his long-standing relationship with McLaren after the 2012 campaign - though few expected Mercedes to be his next destination.
The Silver Arrows had returned to F1 as a manufacturer in 2010, though they were yet to mount any sort of challenge for titles with Nico Rosberg claiming their only win at the 2012 Chinese Grand Prix.
Progress was slow, but Mercedes emerged in 2013 as a more dangerous outfit, yet Hamilton's win in Hungary was his only one of the season, while Rosberg claimed top spot at the Monaco and British GPs.
It was after that spell when Sebastian Vettel went on his dominant run of nine straight wins to end the season and walk away with the Drivers' Championship, but Mercedes were up to P2 in the Constructors'.
With 2014 though came new opportunities - F1 made the switch to turbo charged V6 hybrid engines, and so the door was open for someone to take F1 by the scruff of the neck.
Step forward Mercedes - between them Hamilton and Rosberg would take 16 of the 19 wins on offer as the pair dueled to be World Champion all the way to the decider in Abu Dhabi, where an ERS failure struck Rosberg and allowed Hamilton to go on and win his second title.
World Championship number three arrived for Hamilton in 2015 in more comfortable fashion as he wrapped up proceedings with three races to spare, but Rosberg would win those last three races and carried on his rediscovered form into 2016.
Once again Hamilton and Rosberg would fight all the way to the season-ending Abu Dhabi GP, and it was here where we saw Hamilton, who was leading the race, slow considerably to try and back Rosberg into Vettel behind to cost him the P2 he needed to win the title.
His efforts were unsuccessful, however, as Rosberg took P2 and his first Drivers' Championship, before retiring from the sport shortly after.
Hamilton had a new team-mate for 2017 in the form of Valtteri Bottas, but Vettel proved to be his biggest threat for the year.
For the first time Ferrari had provided the car which Vettel needed for success, and it was all going well until Hamilton took the outright lead of the Championship for the first time with victory at Monza, in front of the Ferrari faithful.
Hamilton would secure a fourth title at the Mexican GP - Vettel was back for another shot the following year, but his season never really recovered from crashing out of the lead of his home race in Germany.
A fifth title was Hamilton's and in 2019 we returned once again to Mercedes dominance. Bottas may have won two of the opening four races, but 'Bottas 2.0' soon vanished as Hamilton claimed eleven wins to take the title by 87 points.
That sixth crown makes Hamilton the second most successful F1 driver of all time, just one behind Schumacher.
Lewis Hamilton Before F1
At the age of 13, Lewis Hamilton was signed to McLaren's young driver programme after first beginning his karting career at just eight years old.
Getting his first taste of open-wheel racing in 2001, Hamilton would hone his race craft with British racing team, Manor Motorsport, spending four seasons with the outfit predominantly in the Formula Renault series. His first piece of silverware with the team came in 2003, storming to the Formula Renault 2.0 UK Championship by winning 10 out of 15 races.
Even more success would come Hamilton's in 2005 and 2006. Firstly, he absolutely destroyed the field in the Formula 3 Euro Series, collecting 15 wins, 13 pole positions and 17 podium finishes in just 20 races to clinch the title in emphatic fashion with ASM Formule 3.
He then adapted to the transition of GP2 racing with consummate ease as he added another title to his trophy cabinet with ART, picking up five victories to pip another soon-to-be Formula 1 driver in Adrian Sutil to the GP2 series title.
Still on McLaren's books, Hamilton, fresh from back-to-back title successes, completed the final step to Formula 1 as the Woking team announced him and Fernando Alonso as their 2007 driver line-up following the departures of Juan Pablo Montoya and Kimi Raikkonen.
Lewis Hamilton Net Worth
Not only is Lewis Hamilton the most successful Formula 1 driver to hail from Great Britain, but he is also the highest-paid driver in Formula 1 history, according to Forbes, surpassing even Michael Schumacher's salary of £29m a year at the height of his dominant reign with Ferrari.
Hamilton renewed his contract with Mercedes in 2019 for another two seasons in a deal estimated to be worth £40m a year and his total career earnings have passed the £385m mark with a number of high-profile endorsements boosting his net worth and making him the most marketable driver in Formula 1.
Hamilton has sponsorship deals with a huge collection of global brands such as Bose, L'Oréal, Mercedes-Benz, Monster Energy, Police, Puma, Sony and collaborates with clothing brand Tommy Hilfiger on a number of collections.
The six-time World Champion was 13th on Forbes' world's highest-paid athletes and 49th on Forbes' 100 highest-paid celebrities in the world.
His wealth and lifestyle has led to some pretty extravagant purchases over the course of his Formula 1 career, with his collection at one time boasting a Ferrari worth £1.13m, a £5.65m yacht and a £15m Bombardier Challenger 605 private jet.
His personal car collection also extends to a whole host of luxury vehicles including a McLaren P1, a Pagani Zonda 760 LH, a Mercedes AMG SLS Black Series, a Mustang Shelby GT500 and a 1966 Shelby Cobra 427.
Hamilton is also mad on motorbikes and shown off plenty of his two-wheelers, too. He has been pictured riding a Brutale 800 RR LH44, a MV Agusta F4 LH44, a MV Agusta Dragster RR LH44 and a Ducati Monster 1200 amongst many others.
In May 2020, Lewis Hamilton was named as the wealthiest UK sports start in Sunday Times Rich List history with the Brit's personal wealth in the last year has been tallied at £224m, up by £37m on the 2019 figures.
Lewis Hamilton Family
Lewis Hamilton's father, Anthony, played a big part in his son's progression up through the ranks to Formula 1 and was Lewis' manager for 18 years before ending their working relationship in 2010.
Anthony Hamilton is still seen occasionally in the Formula 1 paddock, so too are Carmen Larbalestier, his biological mother, and Linda Hamilton, his stepmother who started dating Anthony when Lewis was 10 years old.
Lewis has a half-brother, Nicolas, who was born with cerebral palsy but did not let that stop him from carving out his own racing career predominantly in the Renault Clio Cup and the British Touring Car Championship. Lewis also has two half-sisters via mum Carmen's second marriage, called Nicola and Samantha Lockhart.
Lewis' love life is regularly reported on by the British tabloids with his most famous relationship being the on-off romance with Pussycat Dolls singer Nicole Scherzinger between 2007 and 2015.
Over the years, Hamilton has also been romantically linked with a number of supermodels such as Vivian Burkhardt, Barbara Palvin, Winnie Harlow and Veronica Valle, as well as singers Rihanna, Rita Ora and Nicki Minaj.
In 2019, Hamilton was linked in the press with bikini model Zahra Elise after the two were spotted at a petrol station in Los Angeles.
Lewis also owns two bulldogs, Roscoe and Coco, who form a huge part of the content that he shares on his social media platforms. He has over five million Twitter followers and a fanbase of over 14 million on Instagram.
Lewis Hamilton Photos