Valtteri Bottas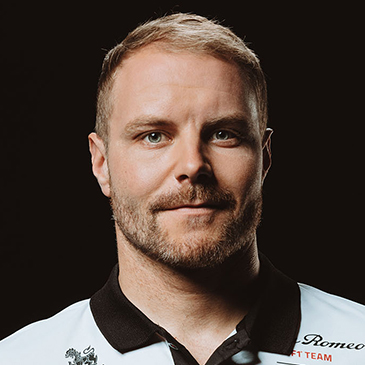 Drivers Championship
| POS | Current Season | Points |
| --- | --- | --- |
| 4 | Season 2021 | 108 |
Results 2021
POS
Race & Track
Date
Points
3
Bahrain Grand Prix

Bahrain International Circuit, Sakhir

Mar 26 - 28
16
R
Emilia Romagna Grand Prix

Imola

Apr 16 - 18
0
3
Portuguese Grand Prix

Algarve International Circuit, Portimao

Apr 30 - 2
16
3
Spanish Grand Prix

Circuit de Barcelona-Catalunya, Barcelona

May 7 - 9
15
R
Monaco Grand Prix

Circuit de Monaco, Monaco

May 20 - 23
0
12
Azerbaijan Grand Prix

Baku, Azerbaijan

Jun 4 - 6
0
12
Canadian Grand Prix

Circuit Gilles-Villeneuve, Montreal

Jun 11 - 13
0
4
French Grand Prix

Circuit Paul Ricard, Le Castellet

Jun 18 - 20
12
3
Styrian Grand Prix

Red Bull Ring, Spielberg

Jun 25 - 27
15
2
Austrian Grand Prix

Red Bull Ring, Spielberg

Jul 2 - 4
18
3
British Grand Prix

Silverstone Circuit

Jul 16 - 18
15
12
Turkish Grand Prix

Istanbul Park, Istanbul

Oct 1 - 3
0
Valtteri Bottas Profile
Valtteri Bottas, the ninth Finnish driver to race in Formula 1, has been on the grid since 2013. In that time, he has driven for Williams before replacing the retired 2016 World Champion, Nico Rosberg, at Mercedes.
Renowned for his composed driving style and his cool head under pressure, the Finn has forged a reputation as one of the best drivers on the grid, being quicker than most on his day and rarely making costly mistakes.
Bottas has failed to put together a title challenge since joining Mercedes in 2017 but, into his thirties and in one of the best seats on the grid, he still has time to change this and become the fourth Finnish World Champion. Even if he fails to do so, he has already achieved enough to go down as one of the best his nation has ever produced.
Valtteri Bottas Career
After being the team's test driver in 2012, Bottas was given a full-time race seat at Williams in 2013. In a car not quick enough to fight for points, the Finn impressed nonetheless, with the highlight qualifying P3 at the Canadian Grand Prix. He scored his first points in the penultimate race of the season when he finished P8 in Austin, ensuring he came P17 in the World Championship, three points ahead of team-mate Pastor Maldonado.
In 2014 he was given a far better car and made the most of it. After finishing in the points in six of the first seven races, he then went on an excellent run to get his first three podiums in his next three races - his charge in Silverstone from P14 to P2 being one of his best drives ever. He would go on to stand on the podium three more times that season, in Spa, Sochi and Abu Dhabi, to end the season P4 in the Championship with 186 points.
2015 saw Williams fall down the pecking order in terms of pace, but Bottas enjoyed another successful season. After missing the first race of the season due to a back injury, he then finished in the top six in seven of the next eight races, bagging a podium in Montreal. He remained consistent for the rest of the season, finishing on the podium again in Mexico and beating team-mate Felipe Massa for the second straight year with 136 points and a P5 finish in the championship.
Compared to his previous two years, 2016 proved to be a disappointing one for Bottas. He managed to finish races in the top six just six times, with his sole podium coming at arguably his best track, Circuit-Gilles Villeneuve at the Canadian Grand Prix. However, his driving was still good enough to earn himself a dream move.
With Nico Rosberg retiring, the Finn was chosen to replace him and, for the first time in his F1 career, found himself in a championship-winning car at Mercedes. It took him just four races to use it to get his first-ever win as he fought off the Ferrari of Sebastian Vettel to stand on the top step of the podium. While he didn't have the pace to beat the German or his fellow Silver Arrow team-mate, Lewis Hamilton, over the course of the season, he still ended the campaign with three wins, four pole positions, 13 podiums and 305 points.
He was unable to build on this success in 2018, however, failing to win a single race in a car more than capable of doing so. This was sometimes down to bad luck, as shown in Shanghai, where a poorly-timed Saftey Car denied him victory, and Baku, where he picked up a puncture while leading with just two laps to go. Nevertheless, he drew criticism from many for his safe, risk-free driving style, epitomised by the race in Bahrain where he chose not to try and pass Vettel for the win in the closing stages, despite being far quicker. Mercedes, though, elected to ignore the critics and give Bottas a new contract, easing the pressure on the Finn, who ended the season in P5, 161 points behind Hamilton.
He rewarded Mercedes for the faith they showed in him by achieving his most successful season to date in 2019. He won two of the first four races to briefly top the standings and spark discussions of a title challenge. These discussions quickly died out though as he failed to cross the line first for the next 12 races. However, in that time he still managed to get eight podiums to ensure he stayed ahead of every driver in the standings with the exception of fellow Mercedes man Hamilton. Two wins in the last five races of the season gave Bottas his best ever points total to date, 326, and a first-ever top-two finish in the championship.
P2 was again where Bottas found himself at the end of 2020, though he achieved 103 points fewer than the season prior. He got off to a flying start by winning the eventful season opener in Austria and went on to finish on the podium a further 10 times, including victory in Russia. However, he truly never came close to challenging his team-mate Hamilton and instead found himself fighting with Max Verstappen for second place.
Questions were truly asked of the Finn when Williams' George Russell stepped in for Lewis Hamilton and outshone Bottas in Sakhir, sparking discussions that the Brit should have his seat. Mercedes have backed Bottas ahead of 2021, but he will surely be feeling some pressure.
Valtteri Bottas Before F1
Like most, Bottas began his journey to Formula 1 in karting at the of six, winning various championships, spending seven years in Finland's National Karting Squad and competing in the Karting World Cup in 2005.
He then made the move to single-seaters and won both the Formula Renault Eurocup and Northern European Cup in 2008, getting 17 wins in 28 races. After this, he began to race in Formula 3, continuing to impress by becoming the first and only ever driver to win the Masters of Formula 3 title twice, in 2009 and 2010, finishing P3 in the F3 Championship in the latter year.
This earned him a move to GP3 where he went on to win the 2011 Championship with Lotus ART, winning four times in the last four races of the season. At the same time, he joined the Formula 1 paddock, becoming Williams' test driver, and opted not to compete in any championships in 2012 in order to fully focus on his role as the team's reserve. The decision paid off, as he impressed enough to be given a race seat for the 2013 season.
Outside of racing, he also served in the Finnish army, as is compulsory for men in the country, and earned the military rank of Corporal.
Valtteri Bottas Net Worth
Bottas is believed to have a net worth of around £15million, as per celebritynetworth.com, which comes from various places, including sponsorship and, of course, Mercedes. The German team gave him a new one-year contract in 2019 for the 2020 season, which was later extended until the end of 2021, and it is believed that it came with a pay rise, with his annual salary now a tidy £6.1million, not including performance-based bonuses.
The Finn is sponsored by Finnish crane manufacturer Konecranes, who he has been partnered with since 2018, and Finnish security company ABLOY, who began to sponsor him in 2019.
Prior to that, long-term sponsor Wihuri withdrew their sponsorship due to his "weak results" in 2018, and it is widely believed that his "to whom it may concern, f*ck you" radio message after his win in Australia at the start of 2019 was addressed to them.
In 2020, he became a brand ambassador for private jet company Insijets and also teamed up with sports brand Polar.
Valtteri Bottas Family
In 2010, Bottas met Finnish Olympic swimmer Emilia Pikkarainen on a talk show and the two began to date before getting married in 2016, becoming Finland's most high profile couple.
In late 2019 however, a story was released in the press that claimed the couple had separated and divorced. In response, Bottas took to his social media channels, saying: "Unfortunately I have to share you the news that the marriage between Emilia and myself has come to an end.
"Our ways have split because of the challenges my career and life situation bring and we think this is the best for both of us and our future lives, so we are separating as friends.
"I will be forever thankful for all the sacrifices she had to make for me, for her support during many years and for all the experiences that we have had together.
"I trust that you will respect both of us and our privacy regarding this matter. This will be all I have to say and comment regarding our divorce."
In their time together, the two did not have any children.
Bottas announced his relationship with Australian cyclist Tiffany Cromwell on Valentine's Day 2020 via Instagram and Twitter. Cromwell also posted, saying "And to whom it may concern… we're happy and that's all that matters to us."
Valtteri Bottas Photos